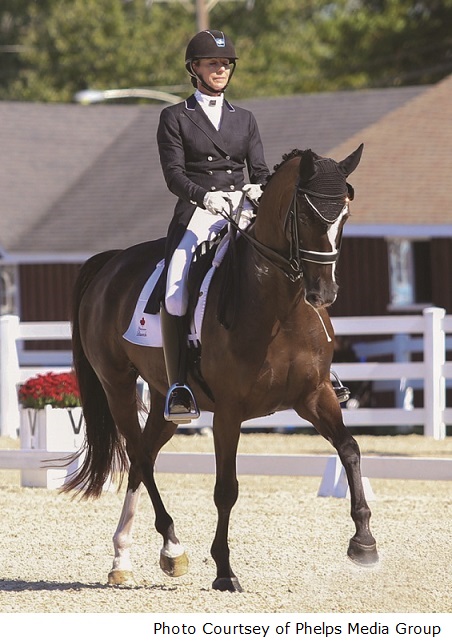 By Sue Weakley for MatchNRide.com
Breast cancer survivor and Grand Prix dressage competitor Shannon Dueck believes that part of her success in beating breast cancer was being a fit horse person and early detection.
"I'm really fit. Also, horse girls are tough chicks," she said, adding that she is amazed at their grit and determination.
After early detection by way of a mammogram in 2009, Dueck learned she had Stage I breast cancer and had real risk factors with a familial history of the disease.
Dueck was diagnosed soon after her mother and aunt also received the news that they had breast cancer. Her mother was in a more advanced stage and died from breast cancer. Her aunt just cleared the five-year mark of being cancer free.
"Because I found out so early and because we learned there was a genetic component, it was easier for me to come up with a treatment option," she said. "I was able to forego radiation and chemotherapy and chose a prophylactic double mastectomy. I had it in one breast but not in the other but it was only a matter of time."
Dueck was back on a horse soon after surgery. "It was honestly three weeks after surgery that I sat on a horse for the first time, but don't tell my doctors that," she said. "I wouldn't recommend it, but it was a personal choice for me. In fact, she was riding a Grand Prix test just four months after her surgery.
"I was careful and I wasn't getting on anything crazy, but I was riding a lot of horses. I had somebody hold the horse when I was clambering up. I was just lucky with early detection and that I was fit enough and strong enough. I had a relatively smooth recovery and being on a horse was therapeutic for me."
Dueck credits her husband, Lorne, as well as the Wellington, Florida, dressage community for helping her through the rough patch.
"I had a really great support system," she said. "My husband was amazing. He was my rock. I think he had a harder time with it than I did because the horses kept me going and I was teaching as soon as I could get out of the chair. At the end of the day, I could come in and fall apart a little bit and he had to be strong to support me when I couldn't be strong."
And when it came to running her business, her peers had her covered.
"They were fantastic," she said. "The people at the barn stepped up to the plate and worked their butts off so I didn't have to worry about anything. I was working with Robert Dover and, at the time, I had a mare that was just going up to Grand Prix and Robert offered to ride my horse. He went above and beyond and not only rode two horses for me, he made them better. I will always be grateful for what he did for me."
Not only did Dover and other trainers step forward but they came together in a more symbolic way that touched Dueck even more.
"I have a quilt that I absolutely treasure," she explained. "After one of the shows in the fall when I was still in the hospital, some people gathered a bunch of 12 x 12 fabric squares and everybody had to write something on them for me. Then, they put them together in a quilt. I was humbled by that. I hadn't lived here that long and I hope that sometime in the future I can help someone like they helped me."
One way she wants to help is by educating people on early detection and how to navigate the healthcare system
"It needs to be that people detect cancer earlier," she said. "That's where I was the most blessed. Early detection is what saved me. Also, I think that being as healthy as I was helped me tremendously. Anything to help your immune system stay strong is beneficial because the immune system is what can help fight a lot of these cancers."
"The system is getting better and better with treatments but I want to get the word out there about better self-examination and better awareness," Her aunt found her cancer through self-examination. "Being aware like this can save your life and spare you a long road through the healthcare system," she cautioned.
She said she learned to navigate the system the hard way. She researched her treatment options and her bachelor's degree in Animal Science and master's degree in Equine Nutrition and Exercise Physiology served her well when it came to digging up and digesting the information she needed to make informed choices.
"For me, if was more about research and learning," she said. "The education made me feel more powerful."
Dueck suggested that if people find themselves in similar situations when considering healthcare choices, then enlisting the aid of an expert could be a wise option.
"There are health care advocates out there," she explained. "I didn't know that and I didn't use one. No one told me there was someone out there I could have hired and I could have saved maybe $15,000. These people are experts in health care plans and how to navigate them. They go to bat to find you the best way and the most economical way."
Dueck is also an active participant in the Challenge of the Americas, a Wellington event that that pits high-performance dressage riders in intricate musical quadrilles to raise funds for the Breast Cancer Research Foundation.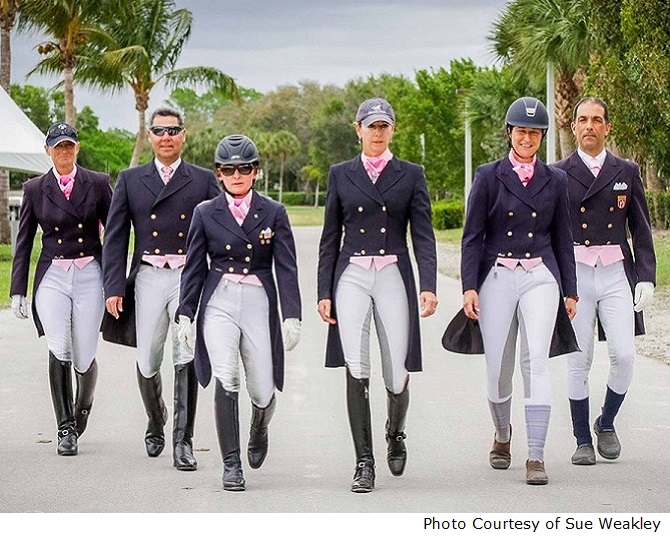 "I participated in the Challenge before I had breast cancer," she said. "I was into it before then because it was really fun and a good cause, but then it became personal. I do the Challenge because I think it's both an awareness raising and fund-raising night. It's a lot of work in the middle of season but it's all worth it."­
Dueck is a firm believer in education about breast cancer and raising awareness is important to her. "My biggest thing is, for sure, that early detection is key," she said.