Here are some tips from International Equestrian Photographer, Susan Stickle.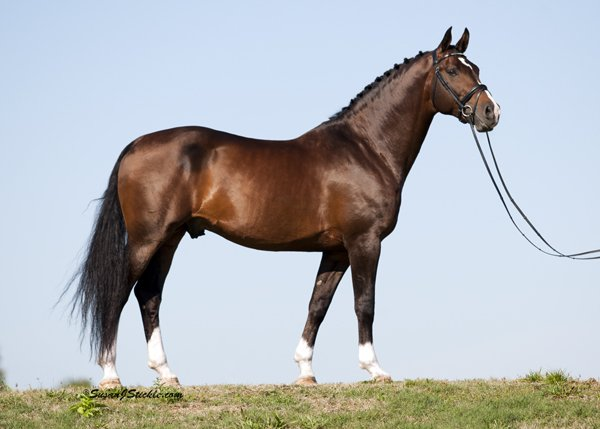 1. Chose a Sunny day. If it's possible chose a sunny day to get your picture. Early morning light is best, but you can shoot at almost any time throughout the day. Always keep the sun to your back as you don't want to shoot into the sun if you can help it.
2. Pick your background. Take a good look around and check for overbearing or intruding background objects. It's very simple to notice the big, yellow front end loader, but you also want to pay attention to things like garbage cans, telephone poles and wires, etc. Try and pick a "clean" background, like a hedge row, open field, or a small hill. You want your horse to the main focus of your image.
3. Make sure your horse is clean and well groomed. You definitely don't want manure stains, big or small, or shavings in manes or tails. If you're looking for a more polished look, braiding makes a very nice impression. If you're looking to be a bit more casual, then leave just a quick brush and loose mane.
4. Make sure you have a helper, or two! If you're going for head shots you'll need someone to help keep him quiet and still, and of course get his ears up! If you want at liberty shots you may still need someone to help keep him moving around the field. Most importantly, make sure you have something to use to get your horses attention and his ears up. Sometimes a dog's squeak toy will work, a candy wrapper or plastic bag, even a mirror held up in front of them can sometimes help get their ears forward.
5. If you're doing conformation shots it's best to know what the breed, or discipline, is looking for in the horse's stance. They all have their own requirements for conformation shots and you don't want to submit an image of a horse standing square if the requirement or standard is an open stance.
Thanks so much and have fun shooting!
Susan J Stickle, Equestrian Photographer
susanjsticklephotography.mypixiest.com