Written by Sue Weakley for MatchNRide
International dressage competitor Kasey Perry-Glass knows a thing or two about choosing a horse. She and Trostruplund's Scarlet are currently ranked among the top 125 in the world and she and Goerklintgaards Dublet are ranked in the top 225. As hopefuls for the United States Dressage Team for the 2016 Olympic Games to be held in Rio de Janeiro, Brazil, this summer, the Grand Prix dressage rider is also a pro at buying a suitable horse for her needs—and then some.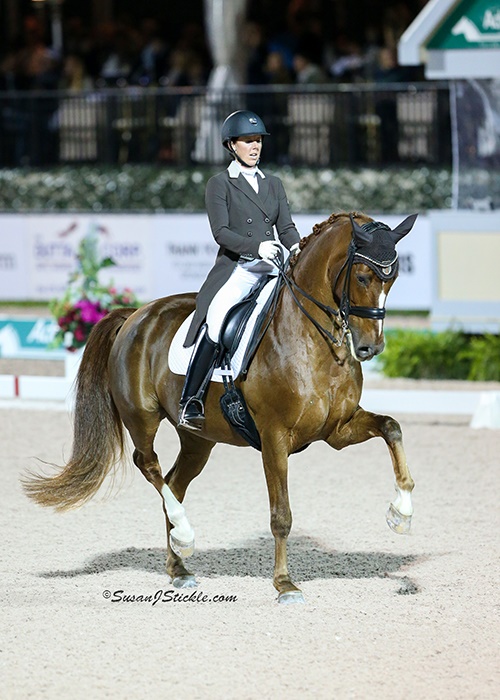 Scarlet, who is owned by Kasey's mother Diane, is a 17-year-old Danish Warmblood mare (Don Schufro-Ramona, Blue Hors Romancier). The horse and rider pair have earned high scores during the 2016 Adequan Global Dressage Festival show series, particularly in the FEI Grand Prix Freestyles. Perry-Glass said her mare likes to be in the ring and focused and hates to lose—especially to the rider's other horse, Dublet. Not only is Scarlet a force to be reckoned with in the CDIs, but the all-around horse is able to change gears and excel in other ways.
Perry-Glass and Scarlet recently participated as members of Team Purina in the Challenge of the Americas, an event in which top horses and riders compete in intricate quadrilles performed to music, all to raise funds for breast cancer research. The quadrille was performed on a polo field at the International Polo Club Palm Beach under the lights with loud music and enthusiastic crowds. Scarlet performed like a champ.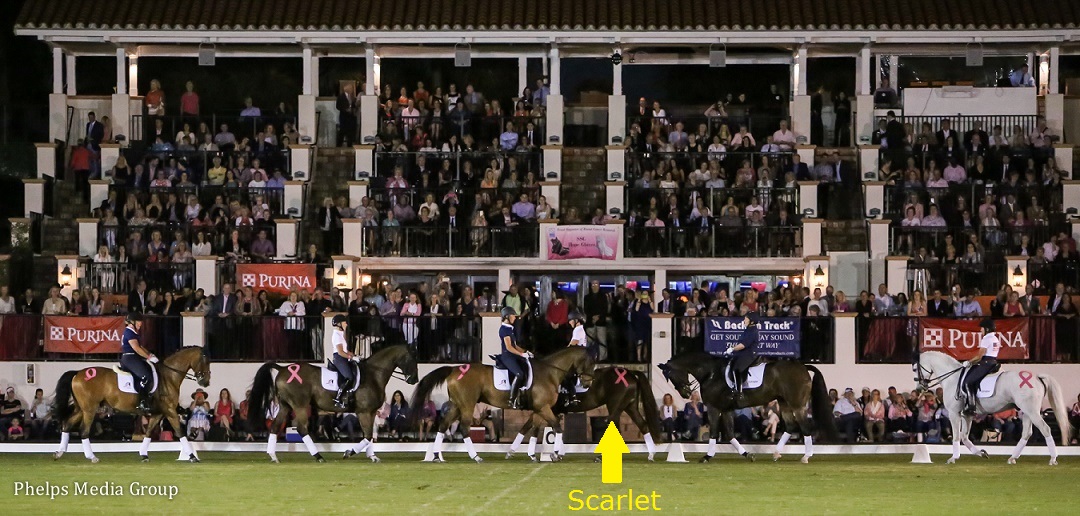 When Perry-Glass was asked to be a part of the Challenge of the Americas, she knew that she had to give Scarlet a try.
"I was so proud to be selected to be on the squad and I really wanted to do it," she said. "At first, I didn't know if Scarlet would be capable of having two horses next to her, but I was willing to try. She was better and better at each practice and it was fun for her to get her mind off full training."
When asked how she chooses a horse able to excel in a variety of venues, Perry-Glass said she has a checklist of attributes she wants. She bought Scarlet several years ago in Denmark as a schoolmaster to get the rider into the Grand Prix arena.
"It ended up her being more than just a schoolmaster," she said. "She's internationally competitive. When we saw her, we knew she was the one we wanted and she's doing her job. She's getting me the scores and she's very focused and very competitive. She's definitely a spitfire out there!"
Not only does Kasey-Perry look for a horse who is in front of her leg, she wants one who is up into the contact and is easily suppled. She also looks for a good mind.
"Both of my horses have super minds and I think it's really important," she said. "I think it's important to find a horse that doesn't have those small quirks in their temperamental areas. I can turn my horses out and I know they are going to be sane. Or I can take them on a trail ride. I love doing that. They do so much for us, they deserve to be horses and do other things."