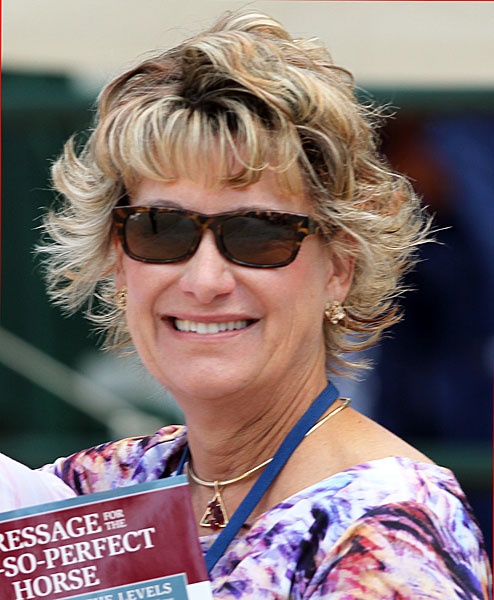 Written by Sue Weakley
When asked how competitors can earn, and hold onto, dressage points during a test, FEI 4* judge Janet Foy quipped, "Other than riding well?" She's seen it all from her perch inside the judge's box, and her no-nonsense approach to advising riders on how to leave the arena with the best possible score includes tips for making the most of your test, as well as impressing the judges. Read on as Janet Foy and MatchNRide.com bring you six tips for impressing dressage judges.
1. Know your geometry. "Riders need to ride an accurate test," Foy said. "I call that losing stupid points. There are so many points lost because the circles are too large or too small or they can't find centerline or they can't find 'X.' I think accuracy is really important and people should pay attention to that."
2. Use the corners. "Go into the corners instead of cutting the corners," she said. This directive goes straight into Number 3. . .
3. Bend it like Beckham. "Riders need to be able to show the correct bend in the direction [in which they are traveling], even at Training Level," she continued. "There are loads of people who are counter-flexed or counter-bent on corners."
4. Ride the straight and narrow. "Something else we see a lot is lack of straightness on the long side with haunches falling in and shoulders falling out," she said. Keep your horse straight with his head in the middle of his shoulders.
5. Transitions. Transitions. Transitions. "Remember that quality of transitions is important," she reminded, adding that sometimes riders may have to sacrifice either accuracy or quality if both ideals are not possible. "Either they need to be super accurate or have quality, supple transitions and forego a level of accuracy. We don't see very many clear downward transitions − or lengthenings or mediums [gaits] or extensions. First Level all the way up to Grand Prix; it's not related to any one level."
6. Your mom was right: Proper etiquette is essential. "When you go around the arena, first of all, make sure you're on time," she cautioned. "On time means when you're going down centerline, not when you show up. When you go around the arena, head toward the judge's end first. Tell the scribe your number. We don't need your name or your horse's name. We don't need to know what test you're riding. We don't need to know if it's a good morning or a bad day. Keep it short and sweet. The judges at that point are writing their collectives and their comments on the ride before you, so that's not really your time. That time still belongs to the previous rider. If you get chatty out there at that time, it annoys the judges when they are trying to concentrate on their comments from the previous ride."
Next time you go down centerline, halt and salute, try incorporating these tips into your test to maximize your score and minimize your stress.
Four-star FEI judge Janet Foy has seen her share of the best, and the worst, of dressage. As an FEI "I" judge, USEF "S" dressage judge, and an USEF Sporthorse "R" breeding judge, she has scored all major shows in the United States, including the FEI North American Young Rider Championships, the FEI North American Junior Championships, the USA World Cup League Finals, the FEI North American Championships, Dressage at Devon, and USET Festival of Champions. She travels across the U.S. and the world to bring her expertise to competitors.