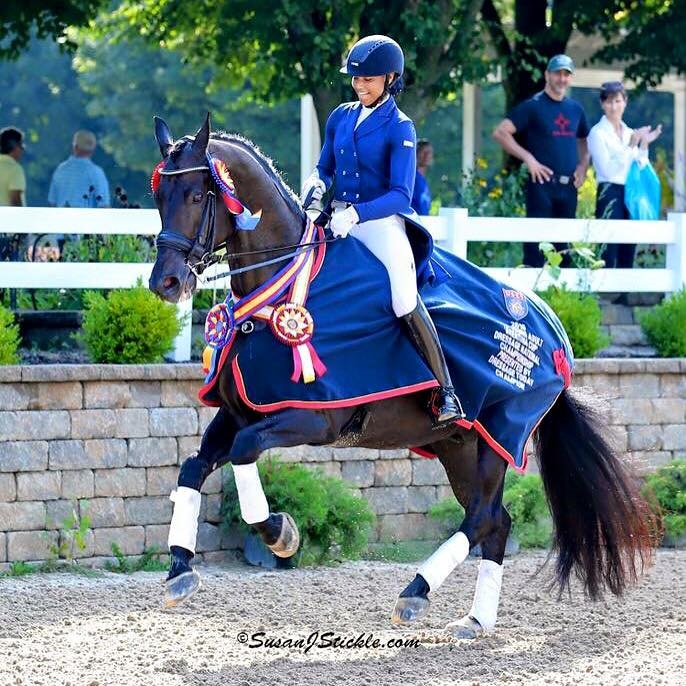 Written by Sue Weakley
Anna Buffini is an up-and-coming dressage superstar with lofty goals and high ideals. The 22-year-old hails from San Diego, California, where her motivational speaker father and Olympic athlete mother have instilled the values of an excellent work ethic and a kind regard for others to Anna and her five siblings.
She and her two horses, Sundayboy and Wilton 11, nailed the top two spots in the FEI Young Rider Grand Prix 16-25 Test at the U.S. Dressage Festival of Champions held at Lamplight Equestrian Center in August. Sundayboy is an 18-year-old KWPN gelding (Kennedy - Eezelma, Zevenaar) who helped her earn a USEF Young Rider National Championship and an NAYRC Gold Medal, and Wilton is her 14-year-old KWPN gelding (Jazz x Olympia-W, Contango) purchased from Sweden's Patrik Kittel nearly two years ago.
Not one to rest on her laurels, Anna was gearing up to return to full-time training with Guenter Seidel in November when a spot opened up to work with Debbie McDonald during the winter show season in Wellington, Florida. Within a week, the pieces fell into place and now Anna and her two horses are comfortably ensconced in the winter horse show capital of the world, making Betsy Juliano's Havensafe Farm in Wellington their barn home-away-from-home.
"I wanted to experience this," she said. "I've only been here five days and it's a different life down here. Everyone is in riding gear at Jamba Juice!"
She plans to stay in South Florida until after the CDIO3* Nations Cup March 24-26 and has applied to be a part of the Carl Hester clinic in Del Mar, California, April 8-9. She's hoping to qualify Wilton to go to Gladstone, New Jersey, for the National Dressage Championships May 18-21 and then on to Europe to compete. "My main goal is to qualify to go to Europe to compete in the Under-25 Grand Prix. Ideally, I'd like to try to take both horses."
Her ultimate goal is to compete for the U.S. in international competition. "I have a long way to go, but I am willing to work my heart out to get there," she said.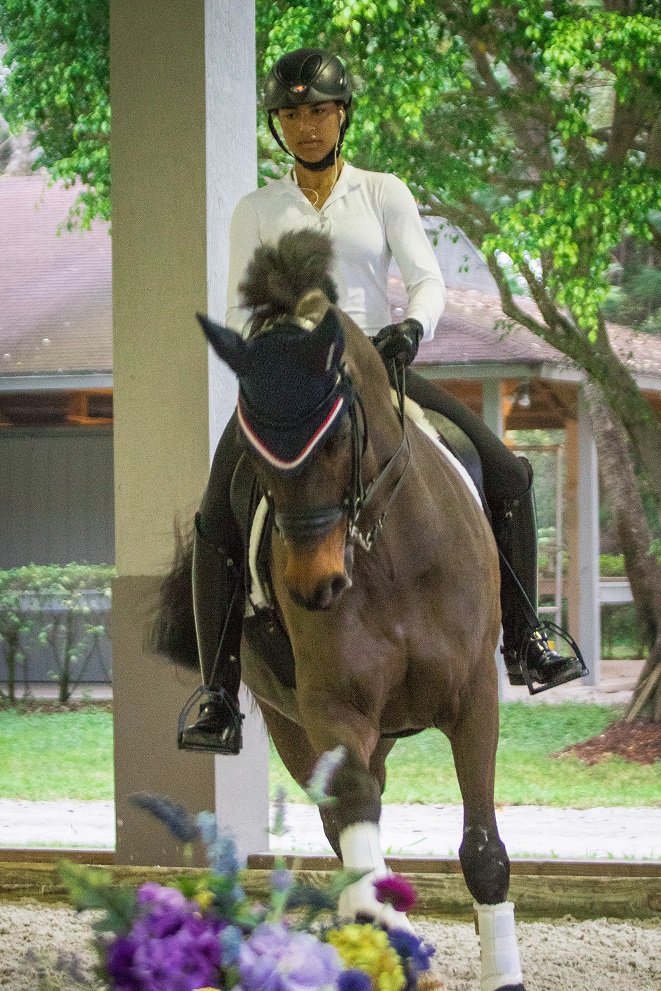 Anna lets no grass grow under her feet. "At home, I ride up to 10 different horses a day at three different barns – from grand prix jumpers to Arabians to Grand Prix dressage horses. You have to be willing to ride anything and everything. That makes you a better rider." She started jumping this past year but has no plans to cross-over. "I've worked too hard at dressage for too long! But it is a fun outlet."
She is also earning her online degree in humanities through Thomas Edison University but is considering changing her major to kinesiology. "I love fitness and I'd love to become a licensed fitness trainer," she said, adding that she works out to be compassionate toward her horse. "If you don't work out, you don't understand what your horse is going through."
Her compassion shines through into her daily life and is noticed by Debbie McDonald. "Like many other people, I have had my eye on Anna," she said. "Not only is she a beautiful rider, she rides with a lot of feel and empathy. A lot of that, I think, has to do exactly with who she is inside. She is a huge role model for any of these Young Riders coming up."
Working with Debbie and being in Florida for the winter show season is a dream come true for Anna. "It's such a blessing," she said. "I really want to come out and represent Guenter and Debbie well and gear-up for competition and see where it takes me. I never want anyone to think I'm spoon-fed and just have nice horses and it's easy and push-button. If my horses look easy, that means I'm doing my job well. You have to work hard to be one of the best. There's no easy path. There's no easy way and that's how my parents raised me. That's how you become excellent at your craft."
She went on to explain how she has had to work to earn Wilton's trust and said he is just beginning to accept her as his rider. "It's taken awhile for him to trust me and not worry about being over-corrected. We're starting to be a team now. Honestly, if I never showed again and my horses trust me and love me and we have harmony in our rides, that's more important than any blue ribbon."