Written by Sue Weakley
Rider, trainer, competitor and clinician Thorsten Kramer earned his USDF Gold Medal on the Wesphalian gelding he bought for $1 and trained to Grand Prix, Altairs Luck. His newest project is a coming 6-year-old Hanoverian mare, Rosina, whom he calls Khaleesi after the beautiful, determined and complex "Game of Thrones" character. Known for bringing along horses that require a sensitive and sympathetic touch and his information-packed clinics, Kramer shares his tips for tailoring training to each horse's individual needs.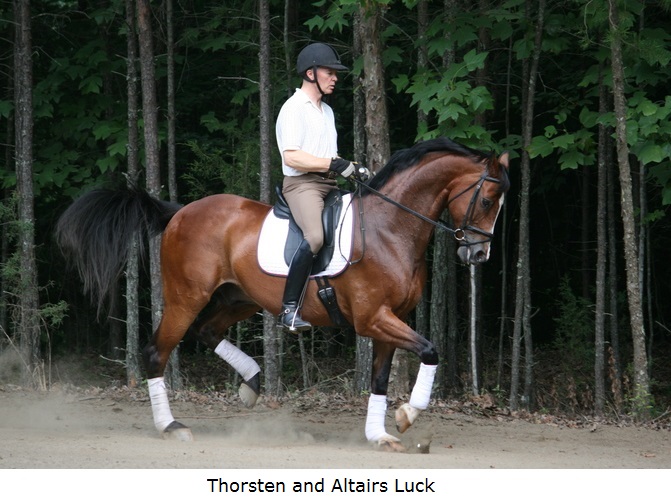 Thorsten's Tips:
1. Send your horse forward into big strides. Horses need the freedom and the liberty to go forward. The horse needs to be in front of your leg and to understand what's expected of him in order for you to make a difference in his performance. Concentrate on making the hind legs go forward rather than worrying about making his frame round and bringing his head down. Once the big stride is achieved, THEN you can collect the horse.
"People are working harder and harder and harder on the horse and the horse is doing less and less and really not in front of the leg and not in front of the seat," Kramer explained, adding that his mantra, As much as necessary. As little as possible, applies. "There's no trick. True, correct riding should be sufficient."
2. Get your point across without it being personal. Ever.
"No or maybe is not an acceptable answer from a horse," he explained. "The result should be instantaneous and it should be there but it should never be done in a personal way.
"People don't go all the way to get their point across but rather continue nagging and the horse gets duller and duller," he continued. "It creates white noise. We as trainers and riders need to start thinking and interacting with the horses like they are horses and not asking them to interact like they are humans. I'm not certain horses can understand that; for horses, it's pretty much black and white."
3. There should never be a question as to who is the leader of the herd.
"When you see horses interact with each other, a mare asks a foal to do something and, if it doesn't, the mare will have no problem correcting that behavior. Then, she moves on. Once your point it proven, there's no lingering."
4. Don't try to make your horse a pet or your friend. Make it your partner.
"It's a horse," he said. "It's strictly business."
5. A sensitive horse needs to live with the leg and a forward horse needs to live without the leg.
Thorsten's mare is so ticklish and sensitive, the logical way to ride would be to take the leg off but that's not the best way to work with her. He believes in Charlotte Dujardin's advice loosely paraphrased as "take your leg off a more forward horse and keep your leg on a more sensitive horse."
"It's more like a hug," he said. "You want the connection there but it shouldn't be an annoyance. It should be there to guide the horse."
6. Hone into what the horse tells you.
"You have to be sensitive and sensible to their feedback," he explained. "It's got to be light and it's got to be true. You can't take shortcuts. You have to have enough foresight to see it through without steering from the path."
7. Make your riding and training better every time you ride.
"In most cases, the horse is doing the exact mirror image of what we asked," he said. "When it comes to riding different horses, they're all the same but they are all different. You are applying the same aid and the same theory, but you're applying them differently for every horse. It's not a cookie cutter approach. It's the same theory but tailored to each individual horse."
8. Make medium - and long-range goals. What you do every day needs to have a long-term goal in mind.
"It takes foresight. It takes feeling. It takes timing. It takes patience," he said. "There are no shortcuts. For me it's an ongoing process. Every day brings a new challenge and you have to continually improve upon what you have."
Learn more about Thorsten Kramer Dressage at www.thorstenkramer.com and like him on Facebook at www.facebook.com/ThorstenKramerDressage.