It's Not Tricks. It's Training.
Written by Sue Weakley with Heidi Degele
Heidi Degele is a whiz when it comes to selling horses and she knows a thing or two about preparing and showing horses for maximum impact. Want to learn some of her secrets to successful horse sales? Read on.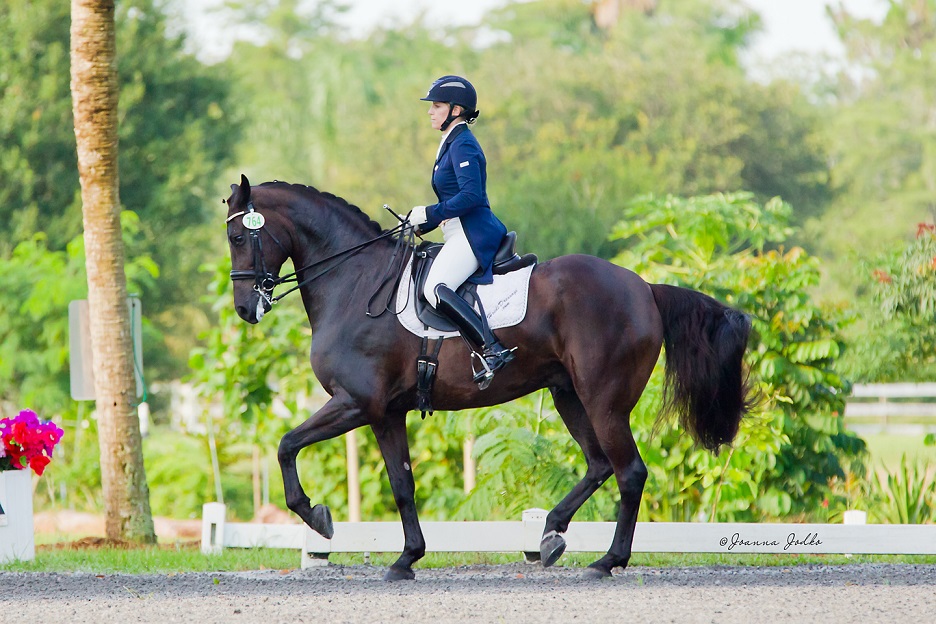 The Wellington-based professional dressage trainer's key tips for selling horses revolve around consistent training, a fitness program, proper evaluation, effective photos and videos, tip-top presentation, and unfailing honesty.
Training
"Everyone thinks it's tricks, but it's not," she said. "It's just training and a routine. When the horses know the routine and what's expected of them, they naturally become more amateur-friendly."
Heidi said that her horses follow a modified program she learned from Hubertus Schmidt during the three years she spent in Germany.
"For our warm – up, we generally ride the horse around the property every day, do cavaletti work on a 20-meter circle for suppleness and then go on to the arena," she said.
From there, each series of exercises sets up for the next. They ride 20-meter circles, shoulder-in, and voltes to haunches-in to half-pass. Walk pirouettes, halt rein-backs and canter work follow.
"When the horse is ready, we add something new to the routine at the end," she said. "If the horse is schooling flying changes or learning piaffe, when he's successful we stop, go on a long rein and he is done for the day. Then, he comes out the next day and says, 'Hey, I got that!'"
Fitness
When a potential buyer comes to try a horse, the client often wants the horse presented, then the trainer rides the horse and, by the time the buyer mounts, the horse has been ridden for 45 minutes. In order for the horse to feel good for the final rider, it has to be fit.
"If that horse is not fit, it will not present well when the client gets on," she said. "Fitness, fitness, fitness."
Evaluation
For Heidi, careful evaluation may determine the road to a successful sale.
"Sometimes I get a horse and there's a puzzle piece missing and I have to figure out what that is," she said. Not only does she place her horses on a training and fitness regime, she also ensures they get daily turnout and a careful diet with five-times-a-day feeding including watered alfalfa and soaked hay.
"If I put the horse on my program and it doesn't improve after three to four weeks, then I'll reevaluate," she said, adding that a consultation with a veterinarian is usually the next step. "You have to put together all the pieces."
Photos and Videos
Heidi is a firm believer in quality photos and videos. They increase interest and can limit over-riding because the buyer and trainer will have already seen the horse's movements as they relate to its level of training.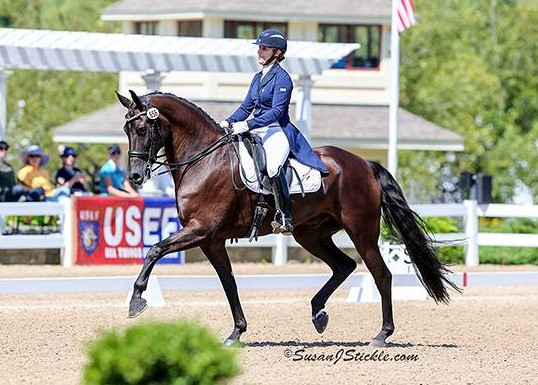 Whether advertising on a website or social media, the key to getting a buyer to take the next step and watch a video is sharp, clear photos. And when it comes to video, Heidi has some guidelines she uses to attract attention.
"I keep my videos current—within a couple months—and I put them on YouTube," she said. She doesn't beef up a video with lots of photos, except at the beginning and the end. Her first picture includes basic information on the horse and the last photo displays her contact information.
"No slow-motion!" she exclaimed. "I once heard Robert Dover say that if he sees a video with slow-motion, he just turns it off. I put what the horse does well first. People have a short attention span. Also, I think a video with the horse going away from you does nothing unless you want to show wide legs behind. And, when videoing, be sure to finish a movement!"
When it comes to length, Heidi believes less is more. "If the horse is a Training Level horse, two minutes. If the horse is Grand Prix, then six minutes. The average video should be three or four minutes."
If the horse is advertised as Grand Prix, show ALL the Grand Prix movements. "It looks like you are trying to hide something if you 'forget' to include one-tempis or passage," she said.
Presentation
"I always braid my horses," Heidi said. "The tack is clean and the horses are presented with new polo wraps and nice saddle pads."
Heidi instructs her staff, whom she outfits in "Heidi Dressage" shirts, to treat the guests with friendliness and respect.
"Things happen in a barn, but I tell the staff to put it behind them and when the clients pull in, they are having their best day ever," she said.
Honesty
From gently advising a potential buyer that the horse and rider may not be a perfect match to telling the truth about a horse, Heidi believes in honesty.
"I always have recent x-rays on my horses and I supply them to the future buyers," she said, "If a potential buyer arranges schedules, buys plane tickets, hotel rooms and a rental car, I believe it's necessary to supply the x-rays up front."
She also believes that honesty as far as training and any behavior or maintenance issues should be fully disclosed.
"I just want the horses and the riders to be successful," she said. "It gives me such joy to receive a text message about show wins from the owner of a horse I have sold!"
To learn more about Heidi, visit her MatchNRide Trainers' Corner page or her website, Heidi Dressage.