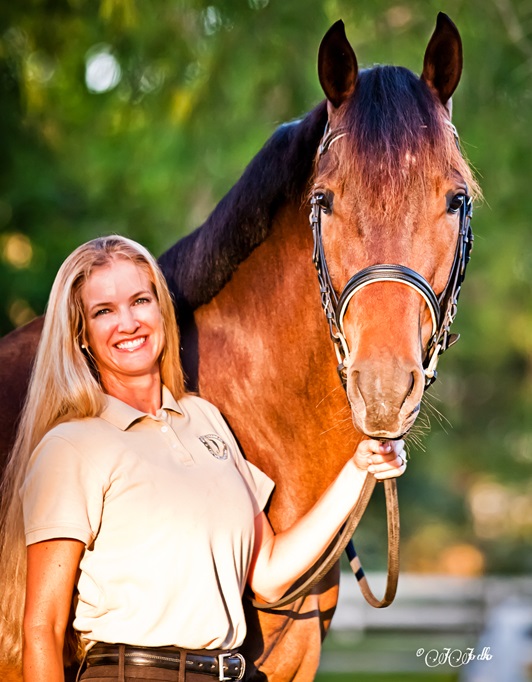 Written by Sue Weakley for Jennifer Benoit, Seahorse Stables
As a certified horse appraiser, "R" judge, USDF Bronze, Silver and Gold medalist, professional trainer and competitor, Jennifer Benoit of Seahorse Stables in Wellington, Florida, has a practiced eye and a unique set of skills when it comes to horse shopping. Check out her list of the most important things to consider in "Top Tips for Finding Your Next Dressage Horse."
The key component Jennifer Benoit believes horse shoppers should consider when searching for their new riding partner is to be specific and crystal-clear about their goals with the horse.
"What are you wanting to do?" she said. "Let's say you want a horse on which to earn your Bronze medal and you are an amateur. You might find a 3-year-old that has super movement that might be your next Grand Prix horse down the road, but if your immediate goal is to get a Bronze medal, that may not be the best choice for you–especially if you can afford only one horse."
She said this step is purely personal and specific to each individual. "You need to ask yourself if the horse you are considering fulfills the role to help you achieve your goals."
Questions to ask yourself when considering if a horse and your goals mesh include:
• Am I able to ride it easily? Is this horse too big-moving? Am I able to sit the trot?
• Do I feel safe?
• Will someone else be riding the horse?
• Will I have help with the training or am I going solo?
• How does this horse make me feel? "If you are riding around smiling and it's fun, didn't you just find your next horse?" she asked.
Your Wish List
"I'm going to describe the most marketable horse from an appraiser's standpoint: a gelding between 6- and 9-years-old, 16.1 hands, black, in some way related to an Olympic champion, preferably Totilas, at least Prix St. Georges and preferably doing half-steps and knocking on Grand Prix, bombproof, with a cute and in-your-pocket personality, and $25,000.
"What I am poking a little bit of fun at is that this would be ideal but very difficult
to find. So, be open to deviations on the horse's description. When you communicate to people who might be looking for you or you are calling about a horse you saw on MatchNRide, be a little bit open. Don't keep the search so narrow and you may be happier in the long run.
"The ride itself is really what you're buying," she said. "The package it comes in, in my point-of-view, may be coincidental."
If you have a specific budget in mind, you also need to communicate that clearly.
"I don't know how many times I have shown horses to someone who says they have to have a black gelding in a certain price range, and I show them horses falling within those parameters and, a year later, they have bought a chestnut mare for twice as much money as I showed them. I could have shown them a chestnut mare for twice the budget, but I exercised restraint because I was showing the customers what they wanted."
The Vet Check
Being realistic about your goals and wish list also includes the vetting process. She suggested using a trusted vet or one who has been recommended.
"Remember, some vets have a reputation for being a glass-is-half-empty kind of vet and give you all the bad news," she said. "Take into consideration that no horse is going to be perfect. An older horse, with a bit more mileage, may have a few issues you'll need to consider. What you have to do is be open-minded while determining if these issues are manageable. If the vet clears the horse, why limit yourself? Think about how you would vet out as a rider. You might not pass and little red flags might pop up for your exam!"
More Tips
• Before you mount a prospective horse, look the owner/trainer in the eye and deliberately ask them if there is anything you need to know before you get on. "I say it very solemnly with witnesses," she said. "Let them think about it. If the horse will try to buck you off if you touch him with a whip, that is essential information. Ask about the horse's strengths and weaknesses. Get the inside scoop and see if it matches up with your own wish list and how it feels to you."
• Also ask how the horse is trained. You need to know if you are able to touch all the buttons. "For example, for me flying changes, piaffe and passage are very personal and it's important to know how that person who trained it or rides it describes how it's done," she explained. "It varies from horse to horse."
• Ask about allergies and vices.
• "My favorite is to research who you are doing business with and what they are representing," she said. "There are so many cool ways to do this. If you know the horse's show name, you can go to centerlinescores.com and look up the scores. You can research via the USDF and US Equestrian websites. Look who the previous riders are. If you don't know the rider or trainer, maybe your trainer does. Contacting them has been one of the most valuable things I have ever done for a client."
• Ideally, you should try a horse three times before buying.
• If you have a budget in mind, you need to communicate that clearly. If someone shows you a $50,000 horse and then there are three commissions on top of it, that's over your budget. Those things need to be fleshed out.
• Buy the best quality you can afford is an old adage that still applies. "Buyers must consider the rideability when evaluating the suitability of a horse and the horse should be appropriate for the person who plans to ride it," she said. "Temperament is paramount and should not be compromised for quality. Don't just buy the 'auction trot' and hope that you can learn to sit it and control it."
"In general, I would be most specific about what goals you want to achieve and not be so wrapped up about the package it comes in," she concluded. "Be a little bit reasonable about the vetting process and understand that you are paying to find out every little detail. Is it workable and can you achieve your goals with these imperfections? And don't be concerned about having the horse that you think other people will envy. At the end of the day, it's just you and the horse. Keep focused on what is the most important."